Essex County and Hudson County are conducting a study of the existing Bridge Street Bridge over the Passaic River to improve its structural deficiencies and maintain an important transportation connection for residents and commuters in Essex County and Hudson County who travel to and from Newark's downtown business district and residential complexes. The bridge has been temporarily closed in recent years for structural and mechanical repairs. Due to its age, the bridge has deteriorated over time and routine maintenance can no longer address the deficiencies.
This Local Concept Development Study is the first step to bridge improvements. The costs are too great for Essex County and Hudson County, so it requires Federal funding. An application was filed with the North Jersey Transportation Planning Authority (NJTPA) who oversees this phase of the project, known as Local Concept Development (LCD).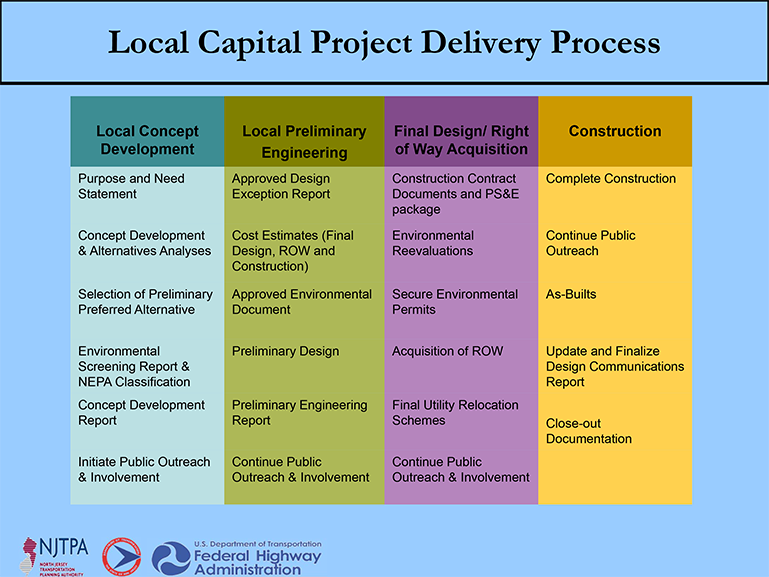 During this phase a well-defined and well-justified Purpose and Need Statement will be developed focusing on the need to improve safety and improve the current crossing over the Passaic River. LCD Phase elements also include data collection; coordination with the New Jersey Department of Transportation (NJDOT), Federal Highway Administration (FHWA), community stakeholders, and permitting agencies; the development of a reasonable number of sensible and practical conceptual alternatives; the determination of a Preliminary Preferred Alternative (PPA); and to investigate all aspects of the project. These aspects will include environmental screening, right of way, access, utilities, design, community involvement, constructability, and cost analysis.
NJTPA has developed flowcharts that show the project phases and the LCD steps to complete for the Local Concept Development phase. Once an alternative for bridge improvements has been determined as a PPA with resolution of support, NJDOT Local Aid would then administer the project with Hudson County and Essex County, utilizing Federal funding as available for the design and construction phases.