About the Project
Essex County and Hudson County are conducting a study of the existing Bridge Street Bridge over the Passaic River to improve its structural deficiencies and maintain an important transportation connection for residents and commuters in Essex County and Hudson County who travel to and from Newark's downtown business district and residential complexes. The bridge has been temporarily closed in recent years for structural and mechanical repairs. Due to its age, the bridge has deteriorated over time and routine maintenance can no longer address the deficiencies.
The Local Preliminary Engineering (PE) Phase is the second step to bridge improvements. The PE Phase follows the Local Concept Development (LCD) Phase, which was the first phase of the project and was completed in September 2020. This project is federally funded.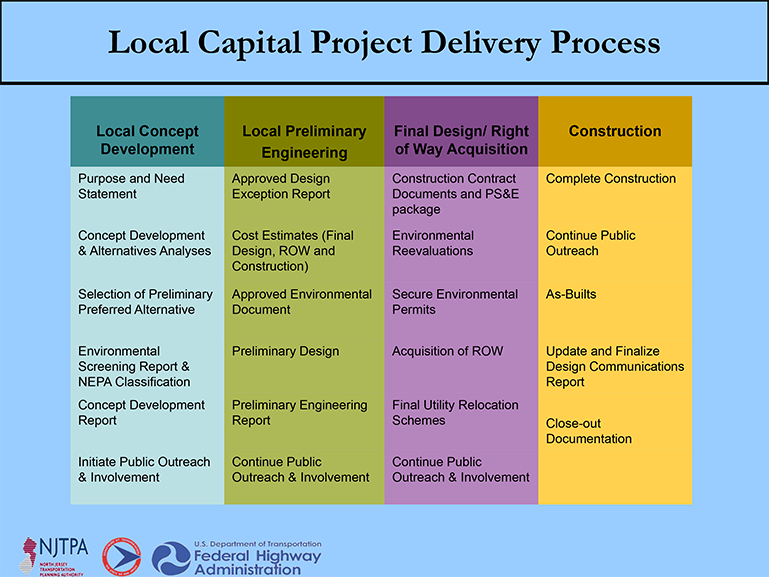 Local Capital Project Delivery (LCPD) Program (PDF – 23KB)
Preliminary Engineering Phase Delivery
The PE Phase involves performing engineering tasks and technical environmental studies. Objectives include obtaining approval from the community through a public information center, approval of the environmental document and creation of an Approved Project Plan. If a design exception is necessary on a project, preparation and approval of the Design Exception Report will be done during the PE Phase. A number of activities are simultaneously set in motion based on the Preliminary Preferred Alternative (PPA), such as community involvement (meetings with affected property, business owners), agency consultation, environmental documentation, design level mapping and design services.
During the previous phase of this project, the Local Concept Development Study, a well-defined and well-justified Purpose and Need Statement was developed focusing on the need to improve safety and improve the current crossing over the Passaic River. LCD Phase elements also included data collection; coordination with the New Jersey Department of Transportation (NJDOT), Federal Highway Administration (FHWA), community stakeholders, and permitting agencies; the development of a reasonable number of sensible and practical conceptual alternatives; the determination of a Preliminary Preferred Alternative (PPA); and investigation of all aspects of the project. These aspects included environmental screening, right of way, access, utilities, design, community involvement, constructability, and cost analysis.
Project Overview